lazyme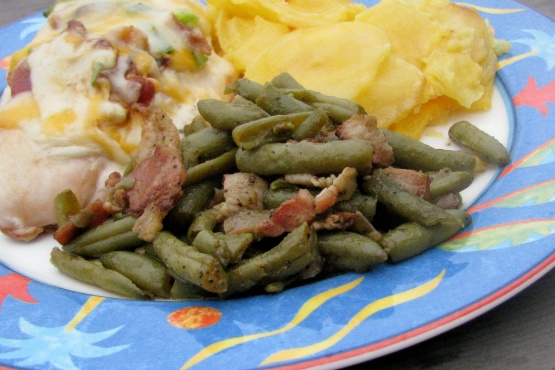 I have tried so many times to make Green Beans like on of my favorite resturants....I finally got it and it is sooooo Good....It takes some time but in the end it is oooooohhh so worth it
1.Put chopped bacon into med.-lrg. Sauce pan and fry till brown or to the way you like.(If bacon is very fatty trim some of the fat off).
2.Without draining bacon grease put onions in with bacon and fry those with bacon about 3-5 minute before your bacon is fully done to your liken.
4.Pour the 3 cans of non drained green into the bacon and onion mix….(It is ok that onion are not fully cooked.).
5.After Green beans are added mix well then turn heat down to a simmer and cover…. Let Green beans simmer for 45 minute stir occasionally.