Riz Au Lait (French Rice Pudding)
Rita1652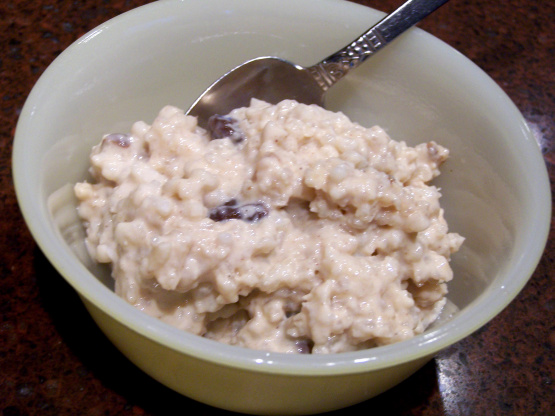 Mmmmh! Milk, vanilla and cinnamon. Those aromas will take you back to your childhood. This dish is great as dessert or even for breakfast. There are so many variations on rice pudding; fruits, nuts, exotic spices like cardammon, star anise, clove...I like them all. But this simple version is the one I like the most. It tastes best with whole milk. I have substituted some of the milk with heavy cream because I had some left over and that made it even more creamy. It tastes great hot and cold.
Bring 4 cups of water to a boil and cook rice for about 2-5 minutes and strain.
Meanwhile warm up milk with vanilla, cinnamon, sugar and salt added.
Bring to a light boil and add rice.
Cover and let simmer on LOW(!) for 30-45 minutes.The rice should be really soft for this dish. Stir and check a few times to make sure the rice doesn't burn or stick to the bottom.
Add butter and stir.
Add egg yolks, one at a time, and stir. After a couple minutes it's done.