Prep 20 mins
Cook 40 mins

I've been making this cheese cake for 30+ years. That would take me back to about...oooooooohhhh when I was about 5!!!!!!!
Directions
Preheat over 350 degrees.
Butter bottom of 9" springform pan. Mix together crust ingredients and press onto bottom of pan.
Cream the cream cheese with electric mixer until light and fluffy (medium speed for 8-10 minutes); add 3/4 cup sugar. Beat until incorporated, occasionally scraping sides of bowl.
Add eggs, one at a time, mixing just until blended.
Stir in vanilla extract. Pour into prepared pan; bake approximately 35-40 minutes. Approximately three inches from the sides should be firm with the center jiggly.
In the meantime, in a small bowl combine topping ingredients and stir until sugar dissolves.
After baking remove pan from oven and carefully spread sour cream topping beginning from the outer edge towards center. Return to oven for 10 minutes; remove and let cool to room temperature. Chill.
Reviews
Most Helpful
Very very yummy. I made it with nilla wafers, and everyone loved the change of pace from the usual mushy graham cracker crust. I'm glad you had the tip about the grainy texture, which explains my previous tries at cheesecake. The topping was nice and creamy. I followed your picture and put fresh strawberries and raspberries on top. It was very good and I will be making this again soon. Made and Reviewed for Everyday Holiday tag. Thanks! :)

Delightful! This cheesecake is actually very light in texture. It is smooth and creamy and everything you want a cheesecake to be. I will be making this often. Thanks so much for sharing this keeper! Made for Everyday's a Holiday Tag Game.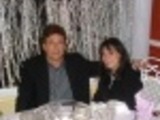 I made exactly as written. Although I thought that was a huge amount of sour cream for the topping.... This cheesecake was perfect.