CoffeeB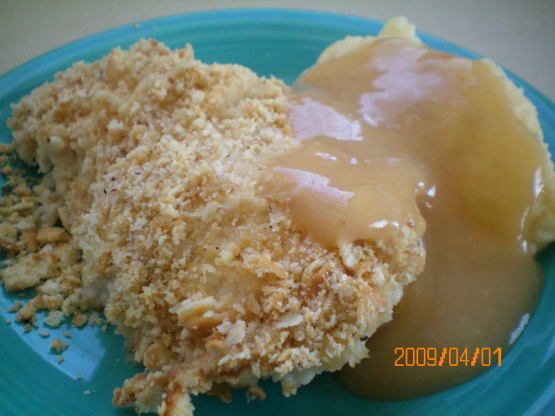 MMMMMmmmm...this reminds me of my recipe for Poppyseed Chicken. This using the whole chicken breast while mine is shredded chicken. I marinated the chicken for about 4 1/2 hours b/f baking. I"m not sure what the yogurt does exactly other than allowing the breadcrumb mixture to adhere to the chicken better. A wonderful tasting chicken recipe Baby. Made for Springs PAC '09.
Dredge breasts in yogurt. Let stand in refrigerator for several hours or over night, covered with plastic wrap.
Mix crumbs, cheese and seasonings.
Coat yogurt covered breasts with crumb mixture.
Place on foil-lined baking sheet or 13 x 9-inch pan. Drizle with 1/4 cup melted margarine.
Bake at 350 for 45 minutes.