Peter J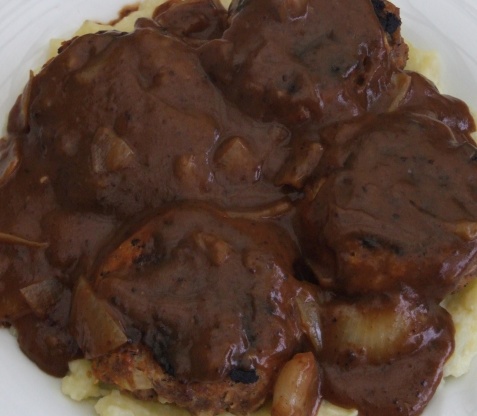 This is an old classic Aussie meal. When I was growing up, we always had Rissoles and onion gravy at last once a week. Give it a try and let me if you like this old favourite. Cook time does not allow for cooking the gravy or the vegetables.

These are wonderful! I halved the recipe and still got 8 rissoles. Followed exactly except for leaving the breadcrumbs out and they held together well. For herbs I used Sage, Thyme and Parsly fresh from the garden. DH can be picky and he liked these so much he asked to have the leftover ones for dinner tonight! Two days in a row? Going to be cooking these a lot for sure! Thanks for such a great easy dinner. :-D
2

lbs mincemeat (ground beef)

2

eggs

1

medium onion (chopped finely)

1

cup breadcrumbs (you may need more)
1⁄3 cup tomato sauce (ketchup)

1

tablespoon Worcestershire sauce

1

tablespoon finely chopped garlic

1

tablespoon dried herbs (or fresh mixed herbs such as sage, parsley, thyme or what ever you have in the garden)
salt & freshly ground black pepper

1

teaspoon mustard powder

2

tablespoons plain flour, for dusting the rissoles

2

tablespoons oil, the rissoles (for frying, you may need more oil. I use as little as possible)
Mix all the ingredients together (except oil), this is best done with your hands.
Shape into 4 or 6 round balls and dust with the flour.
Heat the oil on high in a heavy based frying pan until the oil is very hot.
Place the Rissoles in the hot oil.
Don't over crowd your pan.
Make sure the Rissoles do not burn.
Turn the rissoles over when one side is browned and slightly crispy (make sure they don't burn).
Cook the other side the same way, turn the heat down to medium and cook through.
Depending on the thickness of the pan and the size of the rissoles, it may take about 3-4 minutes to cook the Rissoles on each side.
Do not over cook the Rissoles.
The cooking time would be similar to cooking American hamburgers.
Serve with brown meat gravy and mashed potatoes with minted peas.