Risotto With Peas (France)
katew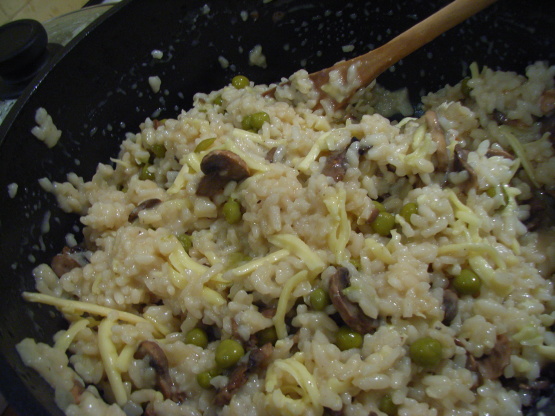 A variant of this recipe was found on cooking-french.com.

I gotta admit I was a little skeptical of how easy this risotto recipe was compared to every other one I've seen but apparently taste is not compromised by ease! Very delicious and flavorful! I added about 1/4 cup of parmesan on at the end because, well, I add parmesan to everything :)
In a sauce pan, melt butter, then add onion & cook, stirring until onion is translucent.
Add rice & stir for 2 minutes.
In a separate pan warm the chicken broth & water, stirring to blend well.
Slowly pour the chicken broth on top of the rice, using just enough to cover it without drowning it!
Cook on medium-low heat, stirring occasionally until the water has been absorbed by it, about 6 minutes.
Add additional broth&water, again just covering the rice, & add 1/3 cup of peas, then continue to cook, stirring occasionally for another 6 minutes, before serving.