Risotto With Italian Sausage
CIndytc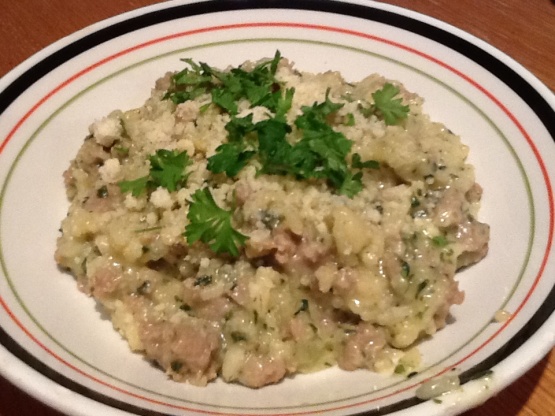 This is a very filling, one-pot meal that I love to make for a chilly night's supper. You may use sweet or hot sausage and please use the good parm, not the processed stuff in a shaker container. Also, use fresh parsley, NOT DRIED. There are few ingredients in this recipe which should tell you that they really need to be quality ones.
Saute sausage, onion, and garlic in the pot over medium high heat until onion is tender, breaking meat up with a spoon.
Add rice and stir for 1 minute.
Add 4 C of broth, reduce heat to medium low and simmer until broth is absorbed, stirring frequently.
Continue to simmer until rice is just tender, adding more broth, 1/4 C at a time, stirring frequently, about 10 min longer.
Mix in 1/4 C of cheese and 1/4 C of parsley and season with salt and pepper.
Transfer to a large serving bowl, top with remaining parsley and pass remaining cheese at the table.