Risotto with Garlic and Parmesan
Kim D.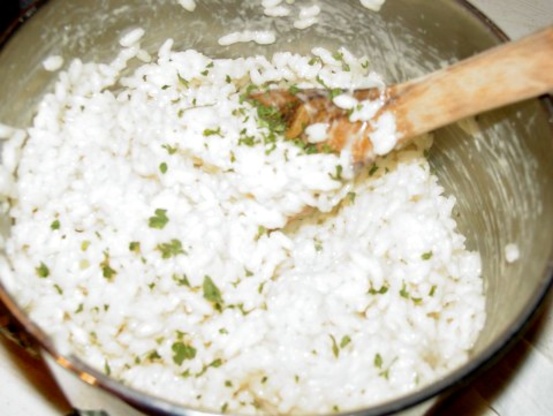 Top Review by Caryn
What a simple but flavorful way to make rice. The rice was creamy with a lovely garlic flavor and smelled wonderful. I think I might try to reduce the olive oil by 1 Tablespoon next time just to reduce the fat content of the finished product. I did find that I had to add water on several occasions, despite having reduced my stove temperature, in order for the rice to finish cooking. Thank you for posting your recipe!
Bring the broth to a boil over high heat.
Cover; reduce to low and keep at a simmer.
In a medium saucepan, heat the olive oil over medium heat.
Add the rice and stir for about 1 minute to coat all grains.
Add the garlic and cook an additional minute.
Add about 1/2-cup of the simmering broth and stir well.
Stir often until the liquid is absorbed.
Add another 1/2-cup of the broth and repeat the process.
It should take about 30 minutes until the last of the broth is absorbed.
Regulate the heat if it appears that the liquid is absorbed too fast.
When the rice is done, add the Parmesan cheese and stir well to combine.
Garnish with the parsley.
Serve immediately.