Risotto With Autumn Vegetables
Prep 15 mins
Cook 40 mins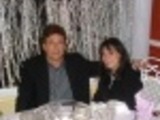 From "Italian Masterpiece", Good Food Magazine, September 1986.
Directions
Heat 2 T. butter and the oil in large saucepan over low heat. When butter foams, stir inleek and cook, stirring occasionally, until leek is tender and wilted, about 10 minutes.
Meanwhile, pour broth into small saucepan. Heat until hot and keep hot over very low heat.
Add rice to leek, increase heat to medium, and cook, stirring constantly, until edges of grains are transparent, about 5 minutes.
Pour enough broth into rice to cover by 1/4 inch. Adjusting heat to maintain a lively simmer (not steady boil), simmer, stirring constantly, until liquid is absorbed and you can see bottom of pan as you stir, about 5 minutes.
Add more broth to cover rice by 1/4 inch and continue to simmer, stirring constantly, until liquid is absorbed. Repeat adding broth and simmering until rice is tender, but still slightly firm at the center; it should take about 20 minutes from time first liquid is added. Season to taste with salt and pepper halfway through cooking and stir in carrot, turnip and celery.
Stir enough broth into risotto to make it creamy. Remove from heat and stir in remaining butter, the cheese, tomatoes, and garlic. Taste and adjust seasonings. Serve hot.
Most Helpful
I went out and bought a turnip just to make this! I halved the recipe, cut up all the veggies and realized I was out of arborio rice! So I used regular white rice and cooked it a little longer. I used homemade vegetable broth and fresh tomatoes from the garden. Toward the end, I couldn't resist using about 1/4 cup wine and at the very end, put a few tbls. of cream in to make it creamy. I loved it! Thanks for a great recipe, using wonderful fall veggies!

Yes!! With all our favorite ingredients I was expecting a great tasting Risotto - and it was! Other then not having a turnip on hand I made as directed with wonderful results. Definitely in my family favorites cookbook to be made again - and again. Thank you Jackie.