Risotto With Asparagus and Porcini Mushrooms
Debbwl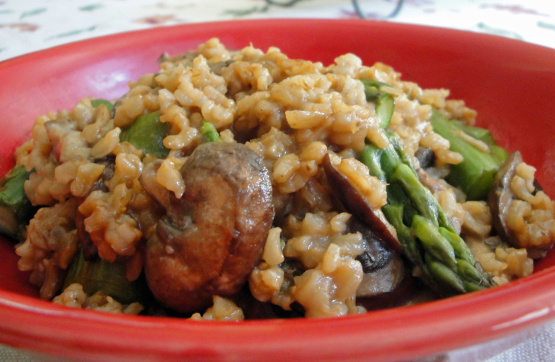 Recipe is from "Just Peachy, Cooking Up a Cure, found in my America's Best Recipe's cookbook. I love risotto and the addition of asparagus and mushrooms really got my attention.

Top Review by Debbwl
This made a delicious dinner. I did make quite a few changes but the recipe held up and we were happy that there was enough left to make lunch the next day. I made using a beef stock, a mix of wild mushrooms and brown rice. Thanks so very much for the post.
Snap off tough ends of asparagus. Remove scales from stalks with a vegetable peeler, if desired. Cut asparagus into 1-inch pieces; set aside.
Cook broth in a saucepan over medium heat until hot; add mushrooms. Remove from heat and set aside.
Cook onion in hot oil in a large skillet over medium-high heat, stirring constantly, until tender. Add rice and wine and cook 2 minutes stirring constantly. Reduce heat to medium . Gradually pour hot broth from mushrooms into rice mixture in skillet, 1/2 cup at a time, stirring constantly. Allow rice mixture to absorb broth before adding more. Stir in asparagus and mushrooms; cover and cook 8 minutes, stirring occasionally. Stir in cheese , salt and pepper and serve immediately.