Risotto of Pumpkin With Rocket and Parmesan
Jubes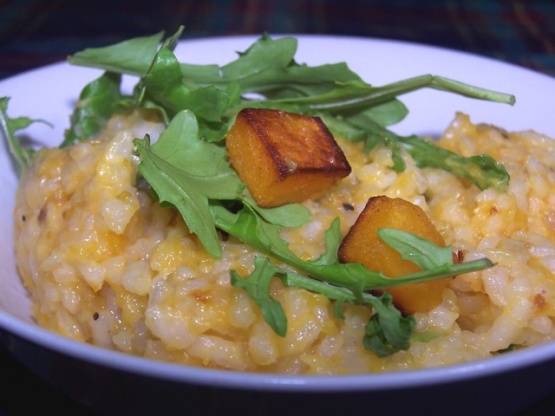 From Gordon Ramsay's The F Word.

Like another reviewer I was unsure of the cooking method. I shouldn't have been as it worked really well, although I did have to add about 100mL extra stock and 2 mins cooking time. I hate gluggy risotto and this was anything but. The pureed pumpkin make a nice, creamy base. When frying the pumpkin I I also sauteed some walnuts and used these to garnish. I will make this again. Thanks Amanda. Made for Aussie Recipe Swap #20.
First, make the pumpkin puree by sweating down the roughly chopped pumpkin in a little olive oil and butter, until it breaks down completely.
Puree this in a liquidizer and leave until finishing the risotto.
Wash the rice in cold water and strain off.
Combine 250ml of chicken stock with 250ml water and season to taste with salt and pepper. Warm the mixture.
Add risotto to the liquid mixture and blanch for 7 minutes.
Drain this off and place on a tray to cool down.
Pan fry the 1cm cubes of pumpkin in a little butter and olive oil until nicely browned and softened.
To finish the risotto place the rice in a shallow pan and just cover with remaining chicken stock.
Bring to the boil quickly and cook until nearly all of the stock has evaporated.
Taste the risotto to see if its cooked, then add the pumpkin puree, sautéed pumpkin dices, rocket, Parmesan, 25g of butter and salt and pepper.
Mix well, taste for seasoning, adjust and serve.