flower7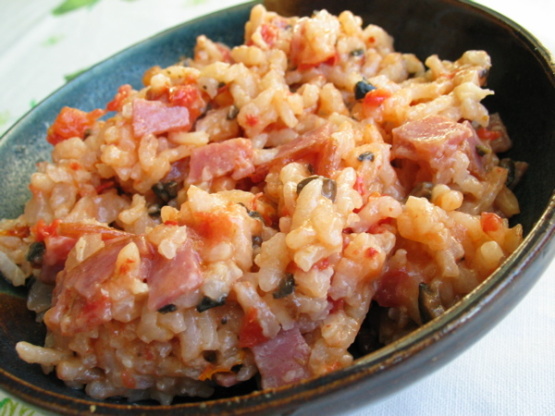 It's as if you took the whole deli and made a risotto out of it! A nice trick here is to use marinated sun-dried tomatoes - the oil you drain off them you can tip straight into the pan! While the chili is an optional extra, fresh parmesan is a must. From an AWW cookbook.

I've never made risotto before and for a first timer, this is a perfect recipe! It was extremely easy; I was afraid there was way too much liquid but it was all absorbed in the end. I made this for guests as a side with shrimp and it was very good - one guest thought it needed a little salt but the other thought it was perfect as is... I thought a little salt wouldn't have hurt it. I have to say, though, as a side dish, it makes WAY more than 4 servings... more like 8 to 10. I made two small changes - used diced olives and only about 1/4 tsp chili flakes. Thanks for the recipe Olivia!
Heat oil in large pan and add onion, cooking until soft.
Add rice and stir until fully coated in oil.
Add canned tomates and water and bring to the boil.
Simmer, covered, for 15 minutes - stir once or twice.
Remove from heat and let stand, still covered, for 10 minutes.
Stir in remaining ingredients and serve immediately.