Risotto Mouselin (Rice and Prosciutto Dish)
Rita1652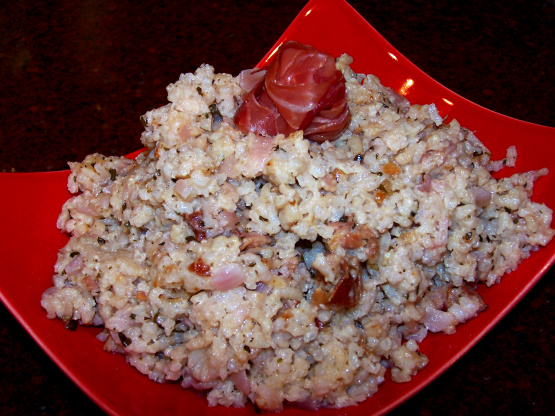 I saw it in a TV show!!! So good!!!! Posted for ZWT III, Italy!

I made 1/2 the recipe. I used one small red onion, 1 cup rissoto, 1/2 cup- 2 ounces parmesan cheese, 1/2 cup crumbled goat cheese that was 2 1/2 ounces, 3 ounces of chopped prosciutto that I tossed into the risotto at the end of cooking except for one the I rolled into a rosebud for garnish, used Recipe #66040. I did make this in my rice cooker. By sauting the red onions in oil first with the lid open then added the rice coated and then followed with 3 cups water and butter. Then closed the lid and let it go till done. At which point added the remaining ingredients. I do wish I made the whole recipe because these would have made the best rice balls. The cooking time in the directions need adjusting. Stove top process of making risotto is stirring a little hot water or broth till the rice absorbs the liquid at which point you add more,stirring and adding till tender. About 30-40 minutes.
Put the olive oil in a pot and add the onion and the pepper. Stir until softened.
Add the rice, stir for 2 minutes more and then add the water. Let it boil until the rice is done in medium heat (10 minutes).
When all the water is absorbed add the butter, little salt, the goat cheese, the rosemary and the parmesan.
Mix well and then arrange it in a pyrex dish.
Cover the rice with the prosciutto slices.
Serve it hot!