Debber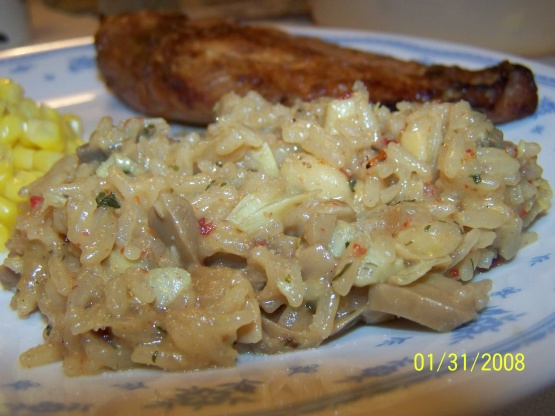 I really liked this idea. A perfect gift in jar for people who aren't to fond of sweets and something different from the typical soup mix. The recipe comes from Holiday Gifts from A Jar.

Top Review by Debber
This is SO good! My whole family loved this recipe!! Altho' to be honest, I used jasmine rice, canned mushrooms (drained), oily sun-dried tomatoes (and not as much as called for), onions --instead of chives (which are buried under a foot of snow), no saffron, and cashews for pine-nuts. So, I didn't "quite" follow the recipe word-for-word, but we certainly aren't complaining....this was just TOO GOOD! Oh, and I used fontinella cheese for the parmesan (it's a hard cheese, too). I halved the recipe since I didn't have an army to feed, and it was just right for the five of us, with a bit leftover which was even BETTER the second time around. Those cashews were delightful!!! Definitely a keeper going into the binder on my shelf! *Zaar Tag, January 2008*
For the mix: Layer ingredients in order listed, packing lightly before adding each layer.
Seal jar, cover top with fabric and attach a gift tag with directions for preparing the risotto.
In a medium saucepan, heat broth and keep at a simmer.
Heat oil and butter in a large skillet; add the shallot and cook over medium heat for 3 minutes or until tender, stir in risotto mix.
Cook and stir 1 to 2 minutes or until rice glistens.
Pour about 1/2 cup broth into skillet, cook and stir at medium-low heat until rice absorbs broth, about 5 minutes, stirring occasionally.
Add 1/2 cup of broth and repeat; continue until all liquid has been incorporated, rice should be tender but slightly firm at the center.
When the rice is cooked through, stir in cheese and serve immediately.