Risotto Con L'aragosta (Lobster Risotto)
jenne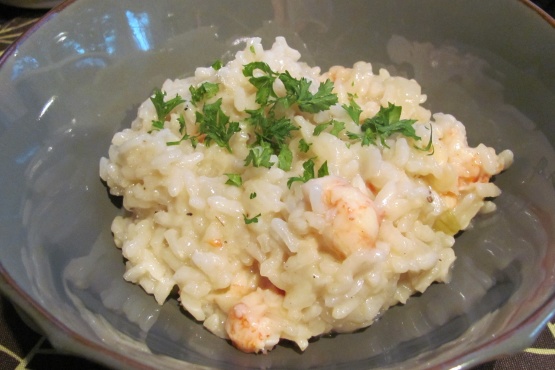 This recipe is Italian was brought home from culinary school by my DD where it was made in class. I have not had it, but she told me it was very good. Enjoy.

This is very good, but it does seem to be missing something. My husband suggested that saffron would enhance the flavor. I also had to add salt at the table. Maybe we'll try adding some mushrooms next time. We used lobster stock instead of chicken stock and I will continue to make it with lobster stock, as it enhances the lobster flavor. Thank you for posting this.
In sauce pan saute onions in 2 tablespoons butter until tender.
Add the rice and cook a minute of two, stirring constantly.
Add wine and cook until absorbed.
Add stock in stages, stirring until rice is between al dente and tender/creamy.
Cut lobster tail into chunks and add to rice.
Cook until lobster is cooked through.
Add remaining butter, Old Bay seasoning and grated cheese.
Sprinkle with parsley.