Rippli (Loin Ribs / Smoked Pork Loin)
Rita1652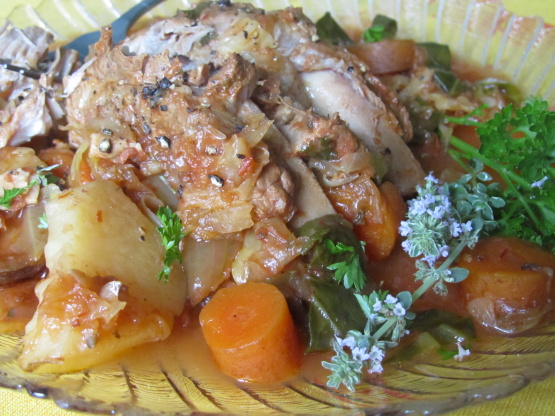 From Switzerland. Found on About.com under Culture-Food. This sounds delicious! Get the smoked pork ribs from a butcher.

Top Review by WiGal
Loved this! I did not have smoked pork loin but had a ham slice and am sure that smoked pork chops would be equally good. I halved the recipe for two of us, and have lunch for tomorrow. Yeah! I omitted the margarine, reduced the onions, doubled garlic, and used 1/4 teaspoon black pepper. Was concerned about the small liquid amount but it worked out perfectly. We like thyme and used amount in recipe and was right for our tastes. Actually this recipe is quite easy because while simmering I was able to do other stuff. Served with bread and Deantini wonderful Danish coconut cookie slices. Thank you annacia for another great recipe.
1

tablespoon margarine

100

g bacon, cut into small pieces (0.22 pounds)

2

onions, hacked

1

garlic, pressed

300

g cabbage, cut into strips

200

g celery, cut into pieces (0.44 pounds)

250

g carrots, cut into slices (0.55 pounds)

500

g potatoes, cut into slices (1.10 pounds)
pepper, to taste
1⁄2 teaspoon dried thyme or 1 teaspoon fresh thyme

800

g smoked loin ribs from pork (1.76 pounds)

1

dl white wine (3.4 fl. ounces)
1⁄2 teaspoon soup, base (instant soup)

4

tomatoes, pealed, cut into slices
Heat up the margarine in frying-pan.
Add bacon, onion and garlic and saute until onion softens and bacon is cooked.
Add cabbage, celery, carrots and potatoes, cover and steam until the vegetables falls inches.
Spice with pepper and thyme.
Place ribs within the vegetables.
Add white wine and soup, cook on low heat for about one hour.
Add tomatoes and cook for 10 more minutes.