Ripplecove's Light Berry Muffins
Pixie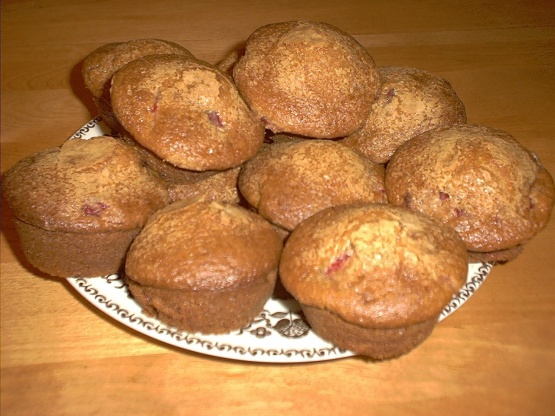 I got this recipe during my stay at beautiful Ripplecove's Inn in Ayer's cliff, Quebec, Canada. Every morning, the chef made these healthy and delicicous light muffins. I tried to do the same at home and here is the recipe! As sour cream is used instead of grease for less fat, the muffins don't stay fresh as long as regular muffins. Eat them the same day you bake them and freeze leftovers. Bon appetit!
1

egg, beaten

236.59

ml sugar

59.14

ml oil (or Crisco)

236.59

ml sour cream (regular or light)

354.88

ml flour

4.92

ml baking powder

4.92

ml baking soda

295.73

ml berries (fresh or frozen I usually buy a bag of frozen mixed berries raspberries, strawberries, blueberries a)
Beat sugar and egg.
Add oil and sour cream and mix.
Add flour, soda and baking powder and mix.
Cut strawberries& blackberries (if any) into pieces the size of a raspberry.
Carefully add berries and mix by hand.
Pour mix into a small 12-muffin mold.
Bake at 375F until top is golden brown (approximately 30 minutes).