Rip Roaring Runzas (aka Cornhusker Calzones)
Mercy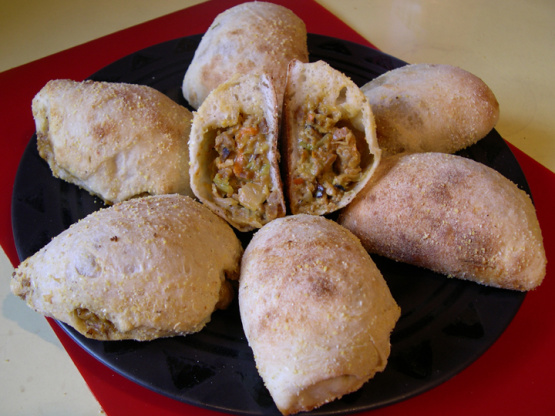 I ask you this, why don't more people know about these wonderful Nebraska treats? If I had the money to franchise a Runza restaurant in Florida, it would be a veritable cash machine! Cha-ching! I originally experienced these little wonders in their Nebraska homeland when I spent one memorable summer milking cows and swathing hay. After I returned to Florida, I experimented again and again trying to achieve the same level of yumminess. This recipe is close, but I still envy all those Cornhuskers who can purchase these yummies from a drive-through window.

Hi Mercy,I\'m behind on my recipe reviews again,so I am trying to catch them up all at once,so I have 2 of yours to review today,and this one is so good!!! The only thing I did different was to use a pizza dough mix ( in a box) instead of the frozen bread dough.But it was really good,so I don\'t think the dough made any difference. Thanks for this yummy recipe.Darlene
Brown the ground beef, bulk sausage and onion in a large skillet over medium high heat.
Drain the fat, then add the cabbage, mustard, salt and pepper.
Saute until the cabbage is tender (about 5 to 8 minutes).
Add the cheeses and caraway seeds and stir over the heat until the cheese is melted (taste-test for seasoning).
Divide the bread dough into eighteen (18) equal pieces.
Flatten each piece of dough into a round disk.
Pile about 1/4 cup (maximum) of filling onto the center of each dough disk and then pinch edges together to form a stuffed round bun (I also like to make crescent shapes by folding one side of the the circle over the filling and pinching it).
Lay them, pinched-side down, on a lightly greased baking sheet.
Let dough rise for one (1) hour.
Brush them with a little milk or melted butter and sprinkle with some kosher salt and caraway seeds.
Bake at 350°F for 20 to 30 minutes, or until golden brown.
Sauerkraut can be used in place of the cabbage.
These can easily be individually frozen and reheated in the microwave oven or conventional oven.