Rindergulasch (German Beef Goulash)
teresas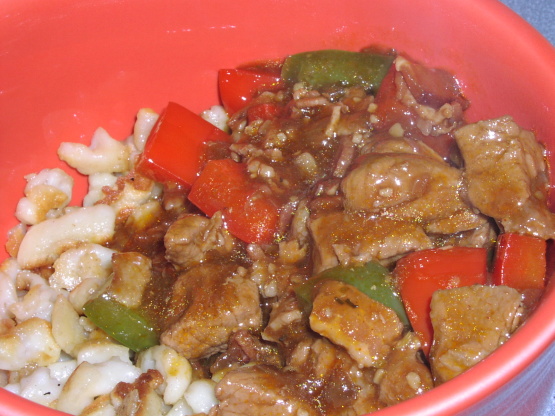 A German version of beef goulash I acquired while living in Germany. Adapted from "Lieblings-Rezepte" and translated directly from the German.

Top Review by LAURIE
Oh Heather oh Heather...this was sooooooo good and with Mimi's spaetzle too! Made me want to sing something from the Sound of Music!
453.59

g onion, diced

3

clove fresh garlic, peeled and finely chopped

113.39

g thick bacon, finely chopped

952.54

g beef shoulder, cut into bite-sized chunks as for stew (trim any visable fat)

29.58

ml butter or 29.58 ml bacon grease or 29.58 ml lard

9.85

ml sweet Hungarian paprika

44.37

ml tomato paste

1213.70

ml beef broth

1

lemon, zest of,finely grated

1

red bell pepper, cut into bite-sized chunks

1

green bell pepper, cut into bite-sized chunks

1

bunch fresh marjoram, stemmed and finely chopped
salt, to taste
black pepper, to taste
fresh cooked egg noodles or spaetzle noodles, to serve over
In a large stewpot, heat the butter (or bacon grease or lard) until melted.
Add the beef chunks in small portions and brown on all sides (but not cook all the way through yet);remove each batch as it browns to a covered dish and set aside for now.
In the same pan, add the bacon, onion, and garlic and saute a few minutes until they begin to wilt and brown, maybe 5-10 minutes or so.
Return the meat to the pan, and sprinkle with paprika.
Whisk in the tomato paste until blended,stirring the whole time.
Add just a little of the broth and bring to a boil,stirring.
Repeat with a little more broth, after it boils, add the rest of the broth along with the lemon zest.
Reduce the heat to low, cover, and let stew about 80 minutes.
In the last 5 minutes of cooking time, add the diced peppers and the marjoram.
Test for flavor now- adding as much salt& pepper as you prefer.
TIP: If you like your peppers to be a little softer, just let it cook a little longer or add them a little sooner.
Serve ladled over bowls of hot, buttered egg noodles or spaetlze.