Rindergulasch (beef Goulash)
kolibri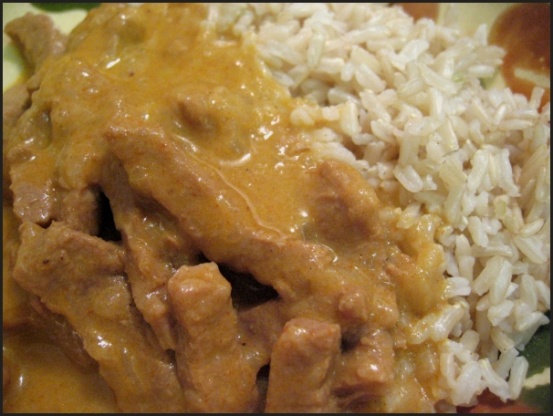 I adopted this recipe from Recipezaar. I've made it and made some minor changes to adapt it to my own taste. If you leave the cream out it is very similar to my mother's Goulash recipe.

This was good but I agree with the other reviews that this was just missing "something." I wound up adding 3 teaspoons of paprika and 1 teaspoon of marjoram and I still couldn't get it to our liking. After that I added 2 Tbsp tomato paste and it didn't taste like I thought it would. I think next time I will use the hot or smokey paprika like others suggested. On the positive, it was still really good and the steak got really tender after it cooked. I also love that the onions liquified and became park of the sauce. We served it over rice and it was a nice meal. I will definitely try it again.
Heat vegetable oil in a large fry pan or Dutch oven.
Add meat cubes and brown well, approximately 10 minutes.
Stir in onions; cook until soft.
Sprinkle with salt, pepper, garlic salt, paprika, and sugar.
Blend thoroughly.
Pour in hot water; cover and simmer gently about 1 1/2 hours.
In a small jar or container, shake or blend flour with cold water.
Be sure to break up all lumps.
Add to meat about 7 minutes before the end of the cooking time.
Stir constantly until sauce is thickened and bubbling.
Remove from heat, check the flavour adding more salt and pepper as required.
Stir in cream if using.
Serve with noodles, rice or potatoes.