Riks Roast garlic potato fans (UK)
Prep 10 mins
Cook 50 mins
The only way I can describe these spuds (UK slang for potatoes)......is simply orgasmic (am I allowed to say that in America)? Hope you enjoy !
Directions
Peel potatoes and rinse in cold water.
Cut potatoes across width, approx 3/4 of the way through (be sure not to cut ALL the way through).
The potatos should be cut at approx 0.5cm or 1/4 inch intervals (once roasted, this will create the crispy fanned effect).
Soak in cold water for approx 15 minutes.
Preheat oven to 220 celsius (425 faranheit) or gas mark 7.
Drain well and pat dry with kitchen paper.
Peel garlic and slice thinly.
Heat oil in a large roasting tin.
Place potatoes in a single layer in the roasting tin (cut side uppermost) and spoon a little hot fat over each.
Roast for 25-30 minutes then remove from oven.
Spoon over more hot oil and scatter over the sliced garlic.
Season to taste.
Bake for a further 20-25 minutes until crisp and golden.
Most Helpful
I have made a very similar recipe called hasselback potatoes. In over to keep from slicing all the way thru I place a wooden spoon handle to the side of the potato and it stops my knife at the same point each time. Kind of hard to describe but I'm sure you get it. Delicious.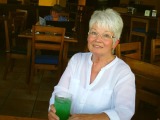 Now these are excellant. every time i make them they disappear before I can get everything else on the table. Very easy to make. Only hard part is getting the full fan effect. But no matter what great recipe, big hit and very easy to make.