Right on Target Baby Powder (Talc Free)
COOKGIRl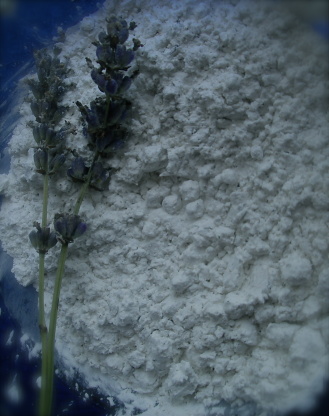 My homemade copycat version of Target brand baby powder. Very easy and cheap to make! I buy the cornstarch in bulk for about twenty eight cents a pound (although you can find it sold in boxes on sale sometimes for about fifty cents.) The lavender I grow and dry myself and the chamomile can be found in tea shops, grocery stores that sell food in bulk and in small packages in the Mexican food section at the grocery store. Total cost? Approximately thirty five cents.
2

cups cornstarch or 2 cups arrowroot

2

teaspoons dried lavender flowers

2

teaspoons dried chamomile
Add all ingredients to clean, dry coffee grinder or mini chopper. (You'll have to do this in batches.).
Blend until the dried flowers are incorporated and to powdered consistency.
Store in airtight container with a powder puff *or* in a container with a shaker lid.
*NOTE: For best results, start off using half the amount of dried flowers indicated. Blend then adjust to your preference. Also, chamomile can cause allergic reactions in some individuals, so please omit if that is a concern.
I've also used the powder to deodorize rugs before vacuuming. Use sparingly however.