Rigatoni With Tomato, Eggplant, & Red Peppers
Chickee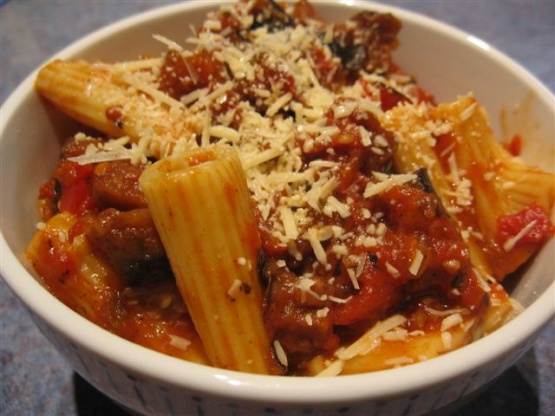 This sauce goes well with a tubular pasta, such as rigatoni, or a long pasta, such as spaghetti. It benefits from slower cooking, becoming a rich sauce that is delicious accompanied by a leafy green salad. From The Classic Vegetarian Cookbook.
This was a delicious topping for our spaghetti noodles. I got everything cooking then left it on a very low temperature (tended by my son's occasional stirring) while I went to do yoga. I let it simmer for about 1-1/2 hours and the eggplant just melted in our mouths! Like others, I added other spices: oregano, a dash of crushed red pepper, italian seasoning, some garlic powder (because the garlic alone wasn't enough for me), and a touch of honey to cut the acidity. Thanks!
3

tablespoons olive oil

1

large onion, chopped

1

medium eggplant, finely diced

1

red pepper, cored, seeded, and finely chopped

1

garlic clove, chopped

2

(14 ounce) cans whole tomatoes, with juice coarsely chopped
salt, to taste
black pepper, freshly ground to taste

1

lb rigatoni pasta
parmesan cheese, fresh cut into flakes (optional)
basil leaves, fresh to garnish
Warm 2 Tbsp of the olive oil in a saucepan over moderate heat, add the onion, cover, and cook until tender: about 5 minutes. Add the eggplant, red pepper, and garlic, cover, and cook for a futher 5 minutes, stirring occasionally.
Pour in the tomatoes with their juice, reduce the heat, and cook slowly, uncovered, until the excess liquid has evaporated and the sauce is thick and puree-like (about 20-25 minutes). Season to taste with salt and black pepper and keep warm.
Pour 4 1/2 quarts of water into a large pan over high heat and bring to a boil. Drop in the pasta, give it a quick stir, then let the water boil steadily until the pasta is al dente: tender but not soft right through. Bite a piece to check.
Drain the pasta but leave some water clinging to it, and return it to the hot pan with the remaining olive oil and a good seasoning of salt and black pepper. Toss the pasta to coat it with the oil.
Pour in the sauce and toss the pasta once more. Serve at once, with flakes of Parmesan if desired, and basil leaves to garnish.