Rigatoni With Steak Sauce
berry271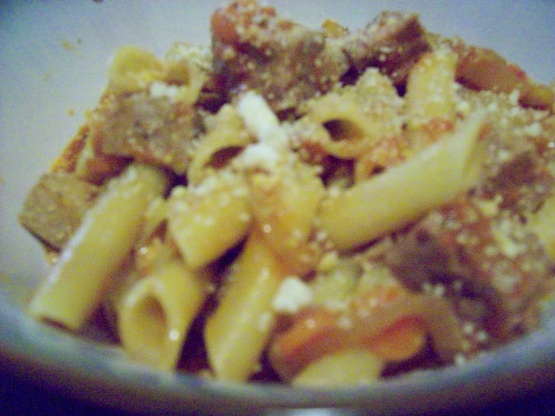 One dish meal served in bowls topped with Parmesan Cheese. Recipe courtesy of Everyday Italian. Reviewers said it was easy and enjoyed by picky eaters, too. Others made with filet mignon to flat iron steak.

Your suppose to add the red wine to deglaze the pan after cooking the steak and veggies. This recipe taste 100 times better if you skip the red wine and add in a half a cup of heavy cream and turn it in to a cream sauce!!!! You could also make this to use up any left over pork roast.
Heat 2 T Olive Oil in heavy frying pan over high heat.
Sprinkle steaks with salt and pepper to taste.
Cook Steaks until they are brown BUT still RARE in the center, about 3 minutes each side. Transfer steaks to a plate to cool down. Save steak juices in plate.
Add 2 T Olive Oil to same pan. Saute the onion and carrots until onions are translucent, about 8 minutes, with add'l salt & pepper to taste.
Add Garlic and Oregano, saute for another minute.
Add Marinara Sauce and broth. Cover and simmer over medium-low heat to allow the flavors to blend, about 10 minutes. Season with salt & pepper to taste.
Meanwhile, trim fat from each steak and cut into bite-size pieces and set aside.
Bring a large pot of SALTED water to boil over high heat. Add Rigatoni and boil until tender but firm to the bite (al dente), about 10 minutes, stirring often. Drain.
Toss the Rigatoni and steak pieces and any accumulated juices from the steaks with the sauce to coat.
Transfer to individual serving bowls, top with cheese.