Rigatoni With Ricotta Cheese
Parsley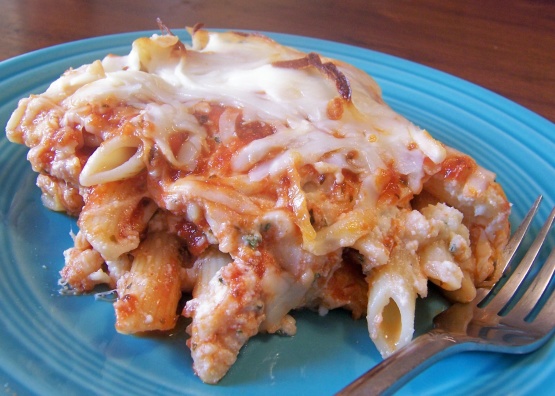 This is very good. If you can't find the Barilla Al Forne Sauce, any spaghetti sauce tastes just great. I always use extra cheese in my recipes. I'm a cheese-a-holic. You know--admitting it is the first step LOL. Enjoy the recipe!

I didn't have the exact pasta sauce that you mentioned as it isn't sold here, but used my favourite sauce instead. It turned out very well and everyone liked it. The next time I make this, I would add a bit of garlic and maybe some mushrooms to the sauce. Thanks for sharing the recipe.
Preheat oven to 375°.
Spray a 9x13-inch pan with Pam.
Cook rigatoni as per directions on package; drain.
Beat eggs in a small bowl.
Stir in ricotta cheese, parmesan cheese and parsley.
To assemble casserole:.
Spread 2 cups pasta sauce to cover bottom of pan.
Place 1/2 of the cooked rigatoni over sauce; top with 1/2 the ricotta mixture dropped by spoonfuls.
Layer 1 cup mozzarella cheese, 2 cups pasta sauce, remaining rigatoni, and remaining ricotta mixture.
Top with 1 cup mozzarella, remaining pasta sauce then the last 1 cup of mozzarella cheese.
Cover with foil and bake 60-70 minutes until bubbly.
Uncover and continue cooking for another 5 minutes until cheese melts.
Let stand 15 minutes before serving.