Rigatoni With Beef and Eggplant (Aubergine)
moxie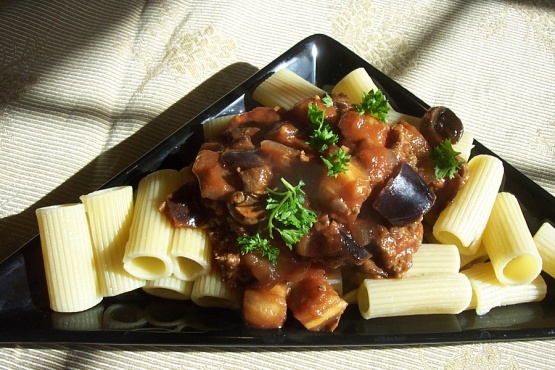 A very tasty and easy recipe...I love the mixture of flavors.

I have made this recipe again and so I thought I would review it. It could be a little spicier, but I never seem to write it on my notes.
My husband is Italian and I like to make this when the eggplants are plentiful.
Place eggplant in colander and weight down with plate to drain juices.
Heat oil in large nonstick skillet over medium-high heat; add onions and mushrooms, cook, stirring frequently until softened.
Add ground beef, breaking up with spoon; cook until browned.
Drain well, then transfer to bowl.
Add eggplant and broth to same skillet; cover and cook 5 minutes.
Uncover; add garlic, salt, thyme and red pepper; cook 2 minutes.
Stir in vinegar.
Reduce heat to medium; add tomatoes and beef mixture, breaking up tomatoes with spoon.
Cover, simmer 5 minutes to blend flavors.
Toss with rigatoni and parsley.