teresas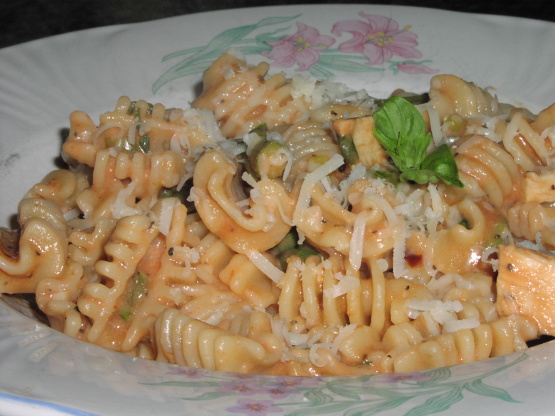 This quick-to-make meatless pasta dish is ready in a flash and oh-so good! It is from a 1990 cookbook called "365 Easy One-Dish Meals".

Hubby and I both loved this...I made it for lunch using some leftover chopped chicken for protein...I used Radiatori instead of Rigatoni...only because that's what I had...neither one of us thought that the red wine vinegar was too much...I did throw in some red pepper flakes only because we love the extra heat it adds...we loved the fresh basil and the touch of sour cream...hubby said he would love to see this recipe again...that makes it a keeper...thanks for posting it =)
Cut asparagus into 1-inch pieces. Chop the green onion.
Bring a large pot of water to boil over high heat. Add rigatoni and cook for 6 minutes. Add asparagus to the pot and continue to cook for an additional 3-4 minutes, until pasta is barely tender and asparagus is tender-crisp.
Drain pasta and asparagus, rinse with cold water, and drain well.
Return pasta and asparagus to pot. Add marinara sauce, sour cream, vinegar, onion, basil, salt and pepper. Toss to mix well. Heat 2-3 minutes until heated through.
Serve topped with Parmesan cheese.