Ricotta-spinach-mushroom Quiche
Barb G.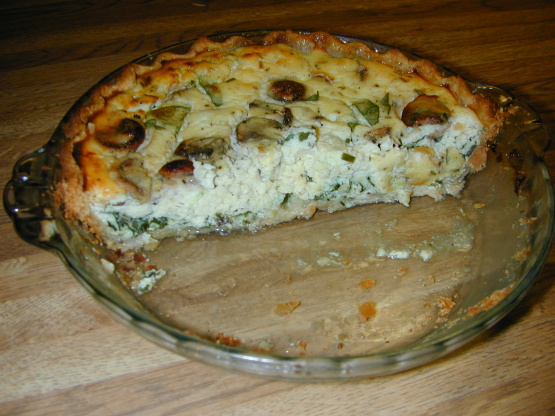 This is really nice for a healthy, meatless meal. Use whatever crust you'd like....homemade or store-bought. I usually serve a salad or soup with this quiche.

We enjoyed this quiche and I'll make again. I used my 2-pc 10-inch tart pan with a Pillsbury refrigerated pie crust, and it made a beautiful quiche, with just the right amount of filling. I substituted fat-free cream for the milk, added salt, and increased the tarragon for a bit more flavor. The creamy ricotta cheese give the quiche a nice mild flavor and texture, blending well with the spinach.
Heat oven to 400°.
Mix spinach, mushrooms and green onions in a bowl; line a quiche or tart pan with pastry, pressing and trimming to fit; spoon vegetable mixture into pastry shell, pressing lightly to flatten evenly into crust.
Combine ricotta, milk and eggs; stir in nutmeg, tarragon, rosemary and pepper to taste; pour over spinach mixture.
Bake quiche until it is lightly browned and set, 30-40 minutes; a knife inserted into the center of the custard should come out clean.
Cool at least 5 minutes before cutting into wedges to serve warm or chilled.