PaulaG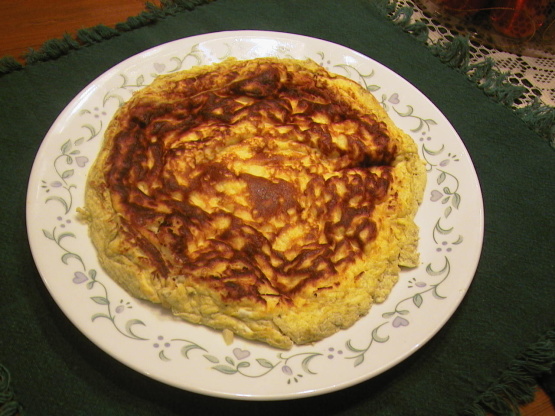 A low carb frittata. The recipe comes from Low carb Luxury recipes.

I won't rate this because I didn't have any fresh marjoram and used 1/2 a teaspoon of dried as a substitute, and found the flavour very mild. To serve this as an easy dinner I added some chopped ham and it was enjoyed by the family. I needed a low carb dish and this is one I will make again.
Preheat broiler Beat eggs with 3/4 teaspoon salt and white pepper to taste.
Stir in cheeses, marjoram and garlic.
Heat oil and butter in 8- or 10-inch skillet.
Add egg mixture and lower heat.
Cook until set, about 12 minutes, then brown under broiler.
When done, slide frittata onto plate.
Serves 6.