Ricotta Cake With Honey and Cardamom Roasted Vegetables
This s really rich cake and can stand to be served on its own. If you want to serve veg with it buttered baby spinach or roasted potatoes work well. This came from Rose Elliott's Vegetarian supercook and made up part of a recent dinner party menu. I haven't tried this with light ricotta so I really dont know how it would turn out.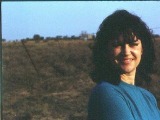 Top Review by Zurie
Wow! I saw this 3.3.07) on your menu which featured on the Home Page today. I have a vegetarian daughter-in-law (700 km away) and I am always looking for a main dish which is not a veggie lasagna!! This looks great, and I'm going to save this to a cookbook. She's pregnant now, and I won't soon have to cook for her, but this I must keep. Think I'll print it as well! Thanks!!
Heat oven to 190°C.
Mix the cardamom, honey, olive oil and seasoning if desired in a large bowl.
Add the peppers, aubergine and courgette and mix to coat in the dressing.
Spread the vegetables on a roasting tray in a single layer and bake for 1 hour.
To make the cake mix the garlic, ricotta and pecorino cheeses reserving a handful of the pecorino. Season with the nutmeg and salt and pepper.
Turn the cheese mixture into a greased 23cm round springform tin. Smooth the top and sprinkle with the remaining pecorino.
Bake for 30 mins until firm and golden brown.
Remove from the tin onto a serving plate and top with the vegetables. Serve immediately.