Ricotta, Basil & Ham Wrap (21 Day Wonder Diet: Day 5)
Sara 76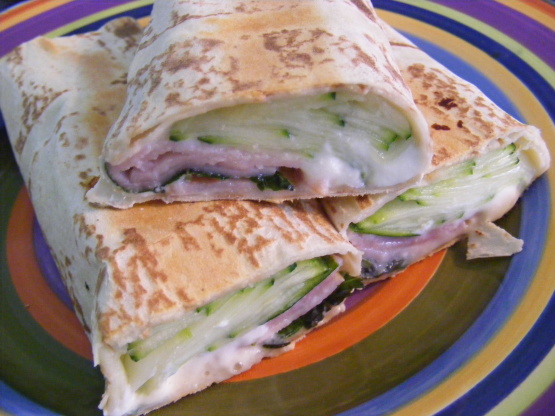 This is Day 5: Lunch, on the 21 Day Wonder Diet. You don't have to toast the wrap, but it gives it a nice crisp texture. You can make the wrap in the morning, ready for lunch. This lunch is to be followed by an afternoon snack of your choice of 2 apricots, plums, or kiwifruit.

I really enjoyed the combination of flavors here. The Mountain bread got a little soggy on us. If you brown bag it, I would suggest you assemble it at work. The fresh basil really adds a fresh punch of flavor.
Preheat sandwich press.
Divide cheese among wraps; top with zucchini, ham, and basil. Roll to enclose.
Toast wraps in sandwich press for about 3 minutes, cut in half to serve.