Ricotta and Chocolate Cake
Boomette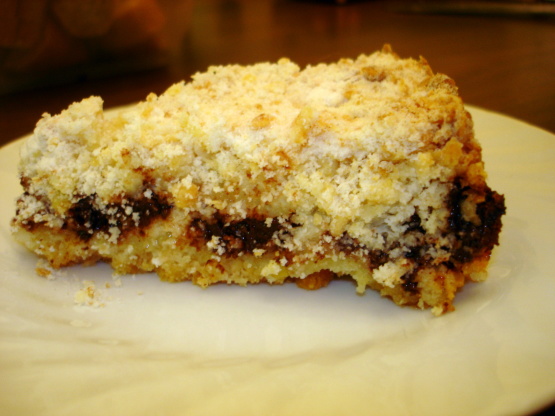 I'm posting this in response to a request on the boards. This is a different type of Italian dessert with a rich filling. I found it on a site called cooking with Patty.

simply heavenly! I did add in 2 egg yolks into the ricotta mixture to give it more body, thanks for sharing MG!...Kitten:)
Preheat oven to 320°.
Grease and flour a 9" springform pan.
For the crust, in a large bowl mix the flour, sugar, baking powder, egg, milk and grappa, if used.
Add the slices of cold butter to the mixture working it in gently, but not so much that everything blends together.
Take half the crust mixture and press it gently into the bottom of the pan.
In a medium size bowl, mix the ricotta and sugar well.
Add the chocolate chips mix again.
Spread the filling evenly over the top of the crust.
Crumble the remaining crust mix over the top of the filling.
During the baking process the butter melts to form a nice crust.
Bake 50 to 60 minutes.