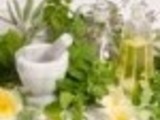 Lovely dessert to have ready in the refrigerator.If you want a more substantial dessert, you should pass some plain cookies or biscotti.
Directions
In large bowl, gently mix the ricotta, cocoa, lemon zest and espresso coffee in folding motions.
Cover and refrigerate for a few hours for best results.
Spoon mixture into small glasses.
Pass honey to be drizzled over the top.
Garnish with berries or sliced fruit.
Most Helpful
This really was not to our tastes. It tasted way too much like cheese. I kept rereading the recipe to make sure I didn't forget something. I thought it would be creamy, fluffy, light and sweet (especially after looking at Thorsten's beautiful photo), but instead it was thick, a little chunky, bitter, and very cheesy. Clearly, others like it, but it simply was not to our taste. Thank you for posting, made for ZWT4.

A great dessert, easy to make, can be made in advance, can be made for a large number of guests and DELICIOUS. I've used unsweetend dutch cacao and I loved the bitter notes, which go well together with the espresso falvours. The lemon zests add some fresh fruity flavours which supports the taste of the berries. To drizzle the honey at last give everyone the chance to make this dessert as sweet as you like.