Ricotta, 3 Mushroom & Spinach Strudel
Bergy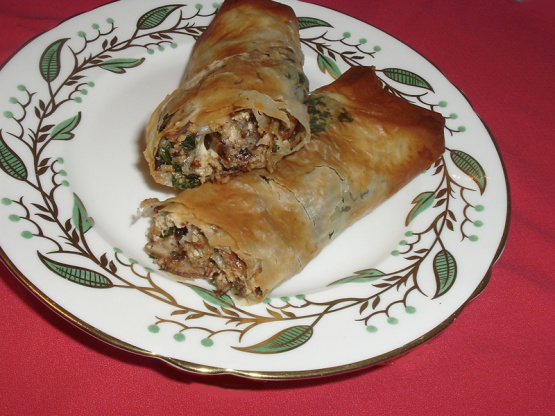 I made this as one course of my Christmas Eve smorgaasbord. It looks beautiful but is a bit bland for my taste - Next time I make them I will add 1 tsp chili flakes. Perfect for a buffet. If serving this as a side dish !/2 roll per person is generous Each roll may also be cut into 8 pieces to serve as appetizers. The recipe is from a Safeway pamphlet.
Pre heat oven to 400F.
Melt 1 1/2 tbsp butter in a fry pan saute the shallots for 3 minutes, add all the mushrooms and cook until browned.
Add spinach cook 1 minute.
Remove mushroom mixture from the pan.
Deglaze the pan with the cognac- 1 minute then add the Ricotta, breadcrumbs& sage Season to taste- mix well.
Combine with the mushroom mixture.
Lay out 1 sheet of Phyllo dough, paint well with the butter.
Place 1/4 of the mushroom mixture on the buttered sheet, spread evenly over the surface, leave the edges free.
Roll once, fold in ends toward the center and continue rolling to make a cylinder.
Repeat for the 3 remaining sheets.
Place the strudels on a non stick baking sheet and bake for 12-15 minutes-let stand for a few minutes before serving.