Rick's Grilled Chicken Penne Pasta
GaylaJ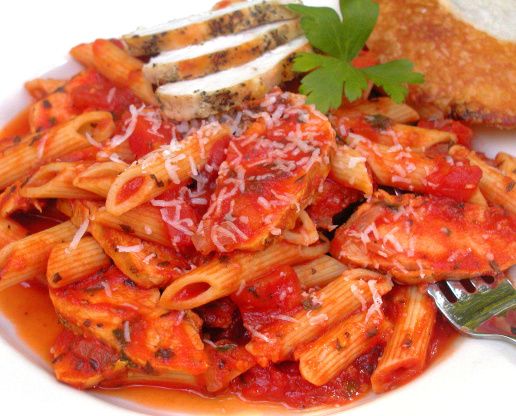 This is a pasta recipe I've been cooking forever. I've changed it slightly over the years, but it's basically the same sauce I've made since I was a teenager.

Excellent. Super easy. Note: Recipe calls for grilled chicken. I didn't feel like separately grilling chicken, so I just sauteed my cut-up boneless skinless chicken breast in the the onion and garlic, took it out when it was cooked through (so it wouldn't overcook while I simmered the sauce a bit) and then added the tomatoes, sauce, basil, salt, etc. I did add some crushed red pepper. I added a little too much. My super-picky six-year old son loved it that way though!
Sauté onions in olive oil until translucent.
Add garlic and cook for one more minute.
Add tomato, tomato sauce, tomato juice, black pepper, salt, basil, and parsley.
Once sauce boils reduce to simmer and add grilled chicken.
Simmer until pasta is cooked.
Cook penne pasta in boiling, salted water.
Strain pasta and add to sauce.
Serve topped with Parmesan cheese.
Notes:.
Add red pepper flakes for arabiatta.
Add oregano for a spicier version.