Peter J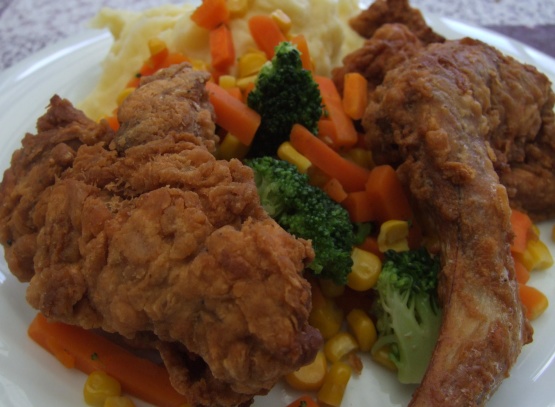 My dad is an avid hunter, and here is his recipe for fried rabbit. It's delicious! Tastes like chicken, only better :) You can use this recipe for any wild game such as squirrel, pheasant, quail, partridge etc. Great for frogs legs too LOL

I followed the directions exactly, and came up with dry meat and bland breading. If I were to try this again I would not boil nearly as long, and add many spices, which I would rub onto the boiled rabbit before dipping into egg. I think using my favorite fried chicken recipe is the easier way to go. But it is GREAT to see rabbit recipes when many cook books do not have them.
Cut up rabbit into pieces.
In a lg. pot, fill about half way with water. Add 2 T. salt, and bring to a boil.
Add rabbit, and parboil for 1/2 hours Drain, and let cool.
Beat eggs in a bowl.
Put flour on a plate, and mix with salt and pepper.
Dip rabbit pieces, one at a time, into egg, and then flour mixture.
Meanwhile, on high, heat 1/2" of oil in a lg. cast iron frying pan.
When oil is hot, turn down to med. and add rabbit pieces, one at a time into the oil.
When first side is golden, flip over to the other side. Cook until golden brown and crispy.
Drain each piece on a paper towel, to soak up grease.
Serve hot, with your favorite side dish.