Richys Exceptional Cheeto Dessert
Bayhill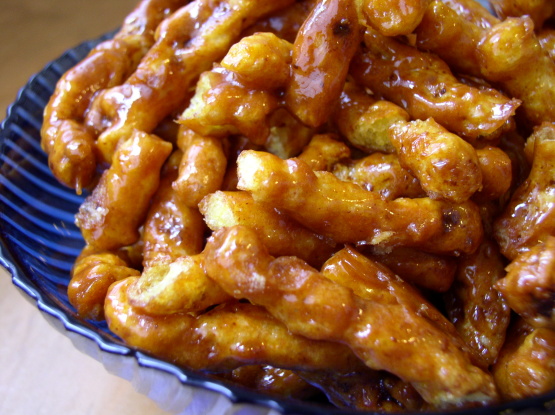 Ok. I know it sounds gross. Who would think of such a thing right? One word- Delicious! Try it even with your prejudices. Tastes much like peanut brittle.

This is good. Definitely fattening and very different. Can't stop eating it! Followed recipe exactly which uses 2 bags of Cheetos. Should have halved it for my small family. Thanks for a fun recipe! *** Update: It was almost gone by the 4th day. I'm really craving more. When I make it again I'll make the full recipe. It didn't get stale like I was worried it would.
Bring butter, sugars, syrup to boil stirring constantly for 5 minutes while boiling.
Remove from heat and add vanilla and baking soda. Stir well.
Add Cheetos.
Spread out onto ungreased cookie sheet.
Cook at 250°F for 45 minutes to 1 hour -stirring every 15 minutes.
When cool enough to touch, break into pieces.