Richmond Plaza Baptist Church Baked Corn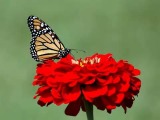 This recipe appeared in the Eyes of Texas Cookbook. To quote Ms. Wilson (who submitted the recipe), "This baked corn recipe has been to more weddings, wakes, showers, and Sunday School parties than any preacher I know." This recipe has always been a hit at my house! I like to serve it with brisket and baked beans. Enjoy!
Directions
Melt margarine in a 1 1/2 quart baking dish.
Mix remaining ingredients in a bowl and pour into the baking dish. Bake 1 hour at 350 degrees.