Rich Hot Cocoa for Two With Flavor Variations
Debbwl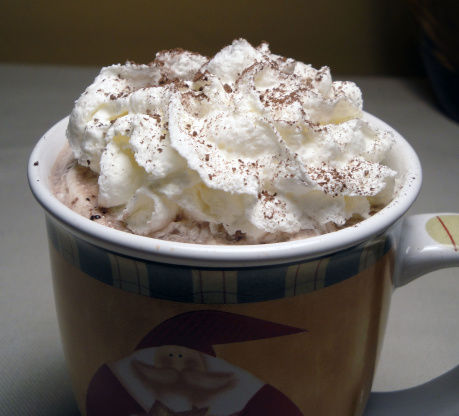 Originally titled Charleston Hot Cocoa, from a Hershey cookbook. This is our favorite cocoa. It is very rich and chocolately.

This was a wonderful treat on a very cool and windy mid-Oct day. The red and gold leaves are blowing around their now bare trees. Indoors a cup of hot cocoa with peanut butter was warming and delicious. I used Splenda and a 50/50 mix of skin milk and fat free coffee creamer for that richer taste. Dark Dutch cocoa and creamy Adams pb are a match made in heaven. Now I'm looking forward to trying the peppermint So simple and so very good :D.
Combine sugar, cocoa, and water in small saucepan. Bring to a boil over medium heat, stirring constantly.
Add milk and heat to serving temperature. Do not boil.
Add vanilla; serve in mugs and top with spoonful of wihhpped cream or marshmallows.
Stir or blend in flavor variations if desired.