Rich & Gooey Pecan Pie Bars
Prep 10 mins
Cook 30 mins
I begged for this recipe from my next-door neighbor, when I was in jr. high. She and her sisters used to do some catering on the side, and this was one of their most requested items. This recipe utilizes yellow cake mix for the crust, and not a single egg! Rich, gooey, and oh so good! (NOTE: Pillsbury Moist Deluxe is the best cake mix for these.)
Directions
Grease a 9x13 pan. Preheat oven to 350 F degrees.
Cut butter into cake mix. Pat into greased pan.
Cover crust with the pecan halves.
In a saucepan, cook the brown sugar, white sugar, honey, and butter over medium heat. Bring to a boil, and boil for 3 minutes.
Remove from heat, and add the cream.
Pour mixture over pecan halves.
Bake 17 - 22 minutes or until bubbly.
Let cool completely before cutting into squares.
Most Helpful
I have had this recipe printed out for three years and finally made it. I should have read the reviews because it was gooey and I did panic then put it in the freezer for a bit so I could cut them and oh they are delicious. I am taking them to a party tomorrow and I bet I get asked for the recipe. Thanks.
omg... easy peasy and a crowd pleasy too! 10 stars, for sure. but make sure you have a pastry blender to cut the butter into the mix... however, make sure not to over cut the mixture... as that will make the crust dense vs. flaky (just a little tip i learned from an awesome pie-maker). also remember not to panic if the top is not set when you take it out of the oven... they're supposed to be ooey-gooey and sticky-scrumptious!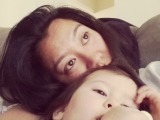 This was great. DH loved it and it was well liked at the Christmas party I took it to. Very rich, a small piece is all you need, and then another and another.... so glad I found it, will make again.