Rich French Hot Chocolate
Annacia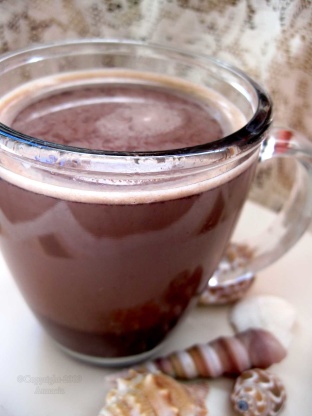 I love this hot chocolate! Three different chocolates and just a bit of sugar, this isn't the overly sweet stuff you get from a box. From Cooking Club of America.

This is a yummy chocolate. I used only bittersweet (didn't have semi-sweet) and I have to agree with Sharon that the two would have been a bit much (and I'm a chocolate fan). It was a rich dark chocolate with only the bittersweet and cocoa. I used Splenda instead of sugar and it didn't blend in as well as I would have liked and made a funny looking top. I should have added the Splenda after I took the pic. If your looking for a rich chocolate hit this is it! Made fore Comfort Cafe, summer 09/
In large saucepan, bring milk to a simmer over medium-high heat. Remove from heat; add bittersweet and semisweet chocolate. Let stand 5 minutes or until chocolate is melted.
Meanwhile, in small bowl, stir together cocoa and sugar; whisk into chocolate mixture along with vanilla. Whisk 30 seconds or until chocolate is slightly frothy.