Boomette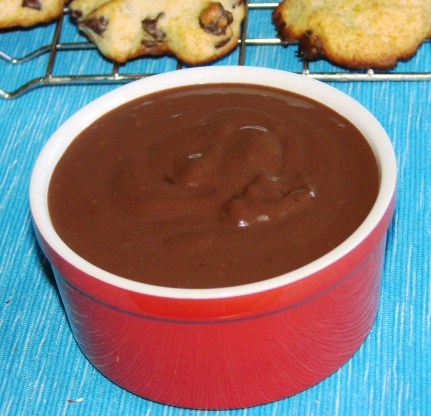 A rich double chocolate pudding for 1 or 2. Reminds me of Jell-O Instant Chocolate Fudge Pudding Mix. Easily sized up for larger servings. May be served warm or cold.

I really enjoyed this recipe. I wanted something chocolaty but smooth for a midnight snack and I remembered saving this recipe. I quickly whipped a batch up in the evening and put it in a container to chill in the fridge (I like my pudding cold) Later in the night, mmm I indulged in this wonderful pudding. It was so good, I'm going to make another batch for tonight! Yummy! Thanks for sharing!
Mix sugar, cocoa and cornstarch, whisk in milk until smooth.
Whisk over medium to medium-high heat and bring to a boil. Boil for 2 minutes.
Remove from heat, stir in semi-sweet chocolate, butter and vanilla. Chill.