Rich Chocolate Brioche Bake
twissis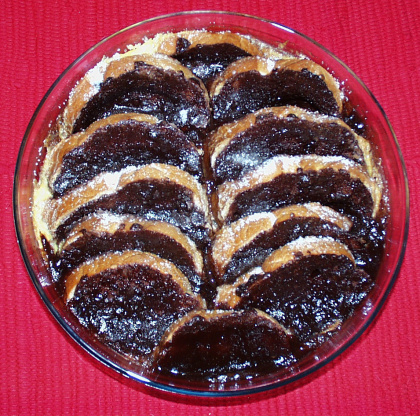 This is the most spectacular dessert I have ever made & tastes wonderful! Do not let the # of steps indimidate you. I was very detailed in the prep, but this is really so easy to make. Except for the sugar content in the sml amt of marmalade & the raw sugar dusted on the top, there is no other sugar in this lovely dessert ... but you will not miss it. My source is my Chocolate cookbook by Christine McFadden & Christine France. I promise you will not be sorry if you give this a try. (Times do not include time for choc sauce to cool or 30 min refrigeration time b4 baking.)

This chocolate-lover's heaven!!!!! Warning this is sweet, I used homemade egg bread for this, my chocolate-loving DS and his fiance absolutely loved it! thanks for sharing hon!...Kitten:)
Lightly grease a shallow, oven-proof dish (or use PAM).
Melt chocolate w/marmalade & butter in a heat-proof bowl over just simmering water, stirring occ till smooth. (Choc mixture will be dark, glossy & approach a light pudding consistency).
Allow choc mixture to cool till just barely warm to the touch (It will have taken on a jam-like consistency at this point).
Generously spread the melted choc mixture over the brioche slices & arrange them in the dish so the slices overlap (See pic that will post after recipe is published).
Beat the eggs, milk & cream in a lrg bowl. Pour slowly & evenly over the brioche slices & refrigerate for 30 minutes.
Preheat oven to 350°F.
Remove dish from refrigerator, sprinkle w/raw sugar & bake (tented) for 30 minutes. Remove tent & continue baking for 10-20 minutes till the custard has set lightly & the brioche slices are golden brown.
Allow to sit till the baking dish is just cool enough to handle & serve warm.
NOTES: I could not get individual brioches or a lrg brioche loaf, so I used a dense Italian bread. A less dense bread does work best as it allows for better absorption of the custard mix. The recipe does not tell you to do this, but I suggest lightly brushing the exposed crusty edges of the overlapping brioche (or bread) slices w/butter using a pastry brush when the tent is removed.