Rich Barley Mushroom Soup
Susang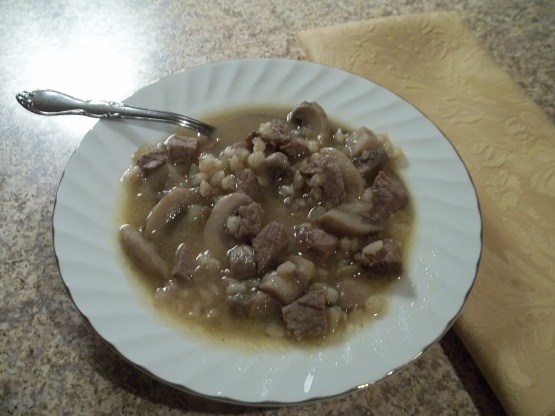 This is one of the best soups I've ever made and it is even worthy of company. So simple, yet rich in deep, mushroomy flavor. The inspiration was zaar #26877, a delicious Mushroom Rice Casserole. I found I couldn't stop eating the liquid before putting the casserole into the oven and that gave me the idea that the base would make a delicious soup. And it does! Use PLENTY of fresh mushrooms. I buy them when they are marked 1/2 price at the grocery, as this is a good way to use your 'shrooms that are starting to get dark. It is the soy sauce that transforms the broth from ho-hum to YUM. I try to use low sodium or home-made no sodium chicken broth so that I can use the soy for the sodium. There is no sense of "asian" in this soup at all. ( I would not make this without the soy. ) Just a little bit adds the depth of flavor and even color that transforms the soup. Notes: 1. If you want to make it into "cream of" just add some evaporated milk...delicious. 2. Once I broke up a leftover ground sirloin burger into my soup bowl and nuked it...was that ever good. 3. I did do this recipe with sinewy beef scraps cut from a roast once. I browned the beef in the bottom of the pan, added the butter and onions and continued as written. The beef added great color and flavor. In this case, I threw the beef piece away, because it had too much sinew, but it was a great addition! I ended up using less soy. 4. I have eye-ball made this soup with amounts I had in the fridge/cupboard and it was great. So if you don't have that many mushrooms, make it anyway, just keep tasting it until it tastes good to you! 5. I've made it without food-processing the onions, and that worked just as well. Lots of flexibility here! Try it, it might be the best barley mushroom soup you've ever had!
In a soup pot on med heat, melt 1 stick of butter and add celery and onions to sweat until translucent. (I use the food processor for my onions because I don't actually want the onion pieces -- I pulse it until it's a rough puree (just past finely chopped).
Add in the barley (I didn't use quick barley, but I'm sure you could). Stir a few minutes.
Add in all of your mushrooms and cook until the mushrooms have gotten dark and given up a lot of their liquid.
Add in the chicken broth.
Add the soy sauce and taste. If it's not salty enough, add soy sauce 1 tsp at a time until you like it. (A little goes a long way. Taste soup before and after adding the soy -- you won't believe the difference!).
Simmer on stove until barley has totally expanded. I think the soup may even be better the next day, but it's certainly a quick soup that could be made and served within 45 minutes. Probably less if you use Quick Barley.
Add black pepper to taste and tweak with more soy, as needed.
Sour cream and dill are a great garnish, but not necessary.
Prep and cooking time are estimates, but it shouldn't take longer than that.
Soup can thicken a lot overnight to almost a stew like consistency. I usually add more broth (or water) and check soy and pepper before serving.