Rich and Creamy Tender Pork Chops (Pressure Cooked)
PanNan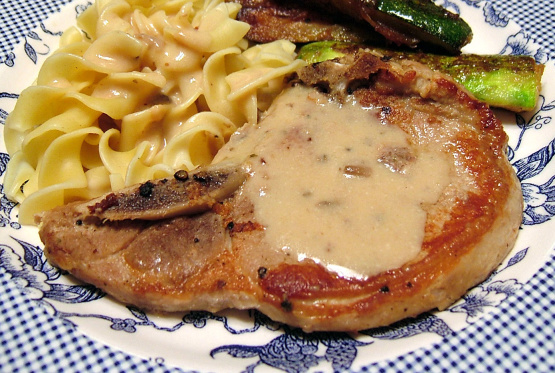 SPOON tender pork chops in a rich and creamy mushroom gravy. Quickly done in the pressure cooker! Great for summer when you don't want to heat up the house!

I have an electric pressure cooker & let me say your recipe was wonderfull. I did make a change though. Like another reviewer I used 8oz of greek yogurt & it tasted great. So tender were the chops, my 92 year old father & 90 year old mother loved them! Kudos to you!
In pressure cooker, heat oil over medium heat til hot.
Lightly brown peppered pork chops on both sides, a few at a time, removing as you go onto a plate.
When all are browned, add water and chicken bouillon to pot.
Scrape bottom to de-glaze and remove bits from bottom of pan.
Add chops back to pot.
Place lid on pressure cooker and heat over medium heat til the regulator starts rocking.
Cook for 8 minutes. Turn off heat.
Let pressure drop on it's own accord.
When no more steam, carefully open cooker.
Remove chops to platter, cover to keep hot.
Whisk in soup and heat over medium-low heat.
Then whisk in sour cream and heat til just heated through over low heat. Do not boil! Might curdle!
Stir in parsley.
Pour sauce over chops.
*For extra-thick gravy, pour out all but 1 cup bouillon before adding soup and sour cream.
**Can garnish with more parsley.