Rich and Creamy Mashed Cauliflower
jonesies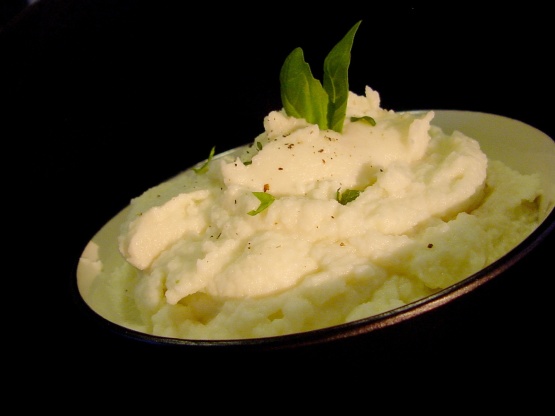 A wonderful alternative to mashed potato (great for carb cutters) but equally as great as a side dish with any meal, I tend to add a little grated cheese sometimes too! Enjoy!

This is a great recipe! It's delicious as-is, though I've taken to making it with fat-free plain Greek yogurt instead of the mayo. The yogurt is a delcious and creamy sour-cream substitute with loads of protein. I'm always thrilled when I find something uber-healthy AND delicious that my kids will eat. I make this using frozen cauliflower to save time. Thank you for posting!
In a 3-quart saucepan, bring the water to boil
Add cauliflower and garlic and cook covered for 15 minutes or until florets are tender then drain.
In a food processor or blender, process cauliflower, garlic, mayonnaise, and salt until creamy, scraping down sides as needed.
Stir in basil leaves and serve immediately.