Rice With Chorizo, Shrimp and Green Olives
Prep 15 mins
Cook 45 mins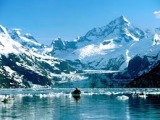 This is a recipe from Food and Wine magazine. Chorizo is a Spanish pork sausage that packs a lot of flavor. Don't skimp there! The chorizo is cooked so that it crisps in it's own spiced and yummy fat. Then the rice is prepared in the same pot so it absorbs any fat left in the pan, which gives it great flavor. Enjoy!
Directions
Heat a medium-sized enameled cast-iron dutch oven or skillet (or other heavy, good quality cookware) over medium-high heat.
Add the chorizo and cook until they start to crisp, about 3 minutes or so.
Add the shimp and cook, stirring occasionally, until white throughout - about 2-3 minutes. Do not overcook the shrimp!
Use a slotted spoon transfer the chorizo and shrimp to a plate.
Drain off all but 2 T. of the fat in the pan.
Add the onion and garlic to the pan and cook over medium heat until tender, about 3 minutes.
Add the water and rice and bring to a boil.
Season with salt and pepper.
Cover and cook over low heat until the rice is just tender, about 18 minutes depending on your heat level.
Remove from the heat and let stand, covered, until all of the water is absorbed, about 5 minutes.
Gently fold in the chorizo, shrimp olives and parsley.
Season with salt and pepper , to taste.
Spoon the rice into shallow bowls and optionally serve with serve with lemon wedges and hot sauce.
Reviews
Most Helpful
I tried this recipe yesterday and it didn't turn out so well. I followed all the instructions and the rice turned out very clumpy and gooey - and there was too much of it. I'm not sure what happened - prolly user error. I would try this recipe again, but I would def scale down the rice, as it was just too much. I would also maybe add some red chili flakes and a bit more garlic for flavor and also use chicken broth instead of water.
Used Chorizo (Mexican Sausage) in this recipe and instead of all water I emptied my fridge of 2 cups of beef broth. I should of scaled the recipe back to two as it made a lot for us. Very tasty, thank you very much for posting. Made for ZWT 5.

DH made this for dinner last night and we thought it was fantastic! It was so good that the two of us ate the whole thing (it's supposed to serve 4) and I had already eaten with friends and this was supposed to be DH's dinner as well as lunch the next day! After the dish was well underway, I realized I was out of green olives, so we substituted kalamata. It was still really good, but I bet the green ones would be better. We followed all other ingredients and directions as posted. We would definitely have this meal again! Thanks! Made for ZWT5. Picture to follow...