Rice With Caramelized Shallots from Melissa D'arabian
This was a recipe shown on "Ten Dollar Meals". Looked to so simple but tasty, so posting for safe keeping. I made this and liked it made the way it was but felt it could be a little more flavorful. Next time I am going to try using beef stock and add more seasoning to it while it is cooking. Definitely use several shallots and probably add more butter to saute them in the beginning.
Directions
In a medium saucepan, over medium heat, add the butter. When the butter has melted add the shallots and saute until very soft, about 5 minutes.
Stir in the rice and add a pinch of salt.
Raise the heat to high and cook, stirring to toast the rice, about 1 minute.
Add the wine and cook until reduced by half.
Pour in the stock and water and bring the mixture to a boil. Lower the heat, cover, and simmer until the liquid is absorbed, about 20 minutes.
Season with salt, to taste. Transfer to a serving bowl and serve.
Reviews
Most Helpful
This had a nice subtle shallot flavor that was really tasty! I used 1 very large shallot and 2 T. butter, the used 2 cups of chicken stock and omitted the water. When it was done, I seasoned it and it was great. It is the perfect side dish because it complements, rather than competes with, the other dishes. Thanks for posting this.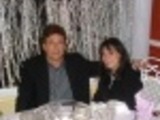 So yummy. I am not a rice fan (I'd rather keep the calories for something else ;) ) but this was really really good! I did use an entire 14.5 oz can chicken broth and then used only 1/2 cup of the water. I served this with Balsamic Chicken #10422. Thank you.

Yum, another winner from diner. Wow, was this good, so quick and easy to make, with excellent results. Both my dh & I enjoyed this tasty rice. I used two very large french shallots, they were so good in this dish, it's amazing how much flavor they impart when paired with butter and wine and chicken stock. Perfect for a family meal but certainly worthy of serving to guests. Thanks for sharing. Made for Cookbook Favorties 2012.