Pneuma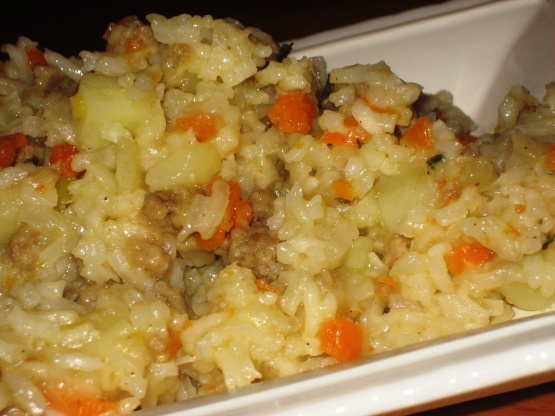 My adopted recipe that comes from Uruguay. Instead of regular ground beef I used ground round to cut down on the fat. This recipe can also be made using some of your favorite seasonings.

Top Review by Pneuma
I love this a lot from the taste of the beef, potatoes, etc. I could actually eat this as is. Just added more water and had the diced boiled potatoes done beforehand to cut down on the extra cooking time. Covered it for some extra few minutes too but no biggie. :D Thanks, Lauralie! Made for WZT4.
In large non-stick skillet, saute onion and garlic in olive oil.
Add ground round and brown well.
Add rice, carrots, parsley, beef or vegetable broth, and pepper.
Stir well and bring to boil, stirring occasionally.
Lower heat and simmer for 20 minutes.
Add potatoes and continue cooking until potatoes are tender or approximately one hour.