Bec6206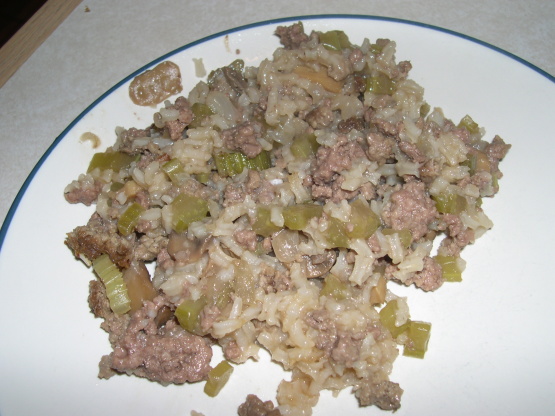 This moist hotdish is so easy to prepare, requiring ingredients that are very common to have on hand. Adapted to my tastes from the "Scandinavian and American Recipes" cookbook, which contains recipes submitted by parents and friends of the Svenskarnas Dag Girls Choir.

Oh, thank you so much for posting this! It's been YEARS since I had this, but my mom used to make it when I was a kid...I wasn't sure how until I read through this and I'm SURE that I'm going to be enjoying my old favorite again! Thanks so much!!!!! Oh, and a little alteration you might want to try is to add a little bit of chopped sweet red pepper or some diced pimentos. YUM...might be in for a night snack! :D
Add salt to water and bring to a rolling boil.
Add rice, then turn off heat and let stand while preparing the rest of ingredients.
Cook ground beef with celery and onions in a large skillet. When beef is almost fully cooked, add mushrooms. Drain fat.
In a 2 quart casserole dish, combine hamburger mixture, rice with water and soy sauce and bake in 325 degree oven covered for 1 hour.
Uncover and bake an additional 1/2 hour or until fully cooked.